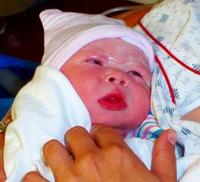 10:26 pm [Yesterday]
Hey all…
After a 2 hour break this afternoon (to let the baby rest) the induction is back on track. Elise has her epidural in place and the doctor broke her water at about 9:45. The projected delivery time is between 2-5 am but you never can tell about these things. Elise is taking a nap and I will try to do the same. It's tough though with all the monitors in here – I feel like if I take my eyes off of them I'll miss something!
1:34 am
To those hearty souls still up (and those who will catch the highlights in the morning)…
No more naps for us. Labor stats at 1:15 were 7cm and -2 sta. That means baby time is an hour or so away if things continue to progress. We're wide awake and waiting for the next nurse-check at 1:45. Next update should include a name, weight, and picture so we'll talk to you then!
4:23 am

Hey everybody!!!

Alexandra Elise Palmer

Born July 13, 2004

3:06 am

7 lbs 13 oz / 20 in

Riley Hospital, Constitution Ave, Meridian, MS

Both Mom and baby are in perfect shape. Room and phone #'s to follow once we get to our permanent room.
Thank you for all the prayers and kind messages!!!
What did people do before the Internet ? -Don
Similar Posts: