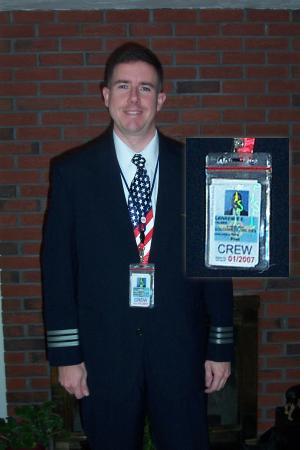 Larry writes:
"
On February 18th I graduated from Southwest Airlines ground school and last Tuesday I flew my first flight in the 737 (with passengers in the back no less…) from Baltimore to Phoenix.  I went on to fly 12 more flights this week with a check pilot and yesterday I was officially designated a Southwest Airlines Pilot.  My week included brief (20 min) stops in Phoenix, Seattle, Spokane, Jacksonville, Fort Lauderdale, and Orlando.  I also spent overnights in Salt Lake City, Boise (ID), and Manchester (NH).  It was a fun, busy week and I learned a lot about the airplane and the airline business.  My next trip starts on Thursday as I visit Baltimore, Phoenix, Kansas City, Las Vegas, Islip, and Orlando.

I hope to see some family and friends on one of my flights very soon!!!  (snack packs and drink tickets for everyone!!!…)  My complete schedule is available on request.  Southwest is an amazing company to work for and to fly with.  I'm not just saying that because they sign my paycheck either…  I can't believe how fortunate I've been in the last year.  Thank you all for your encouragement and support!! 
"
Congratulations Larry!
Similar Posts: