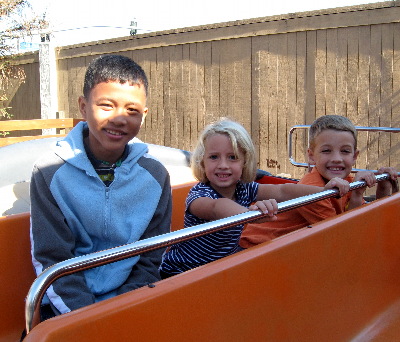 Quick update. We went to Knott's Berry Farm and had a lot of fun. Julius was freaked out when we first got there because there were enormous roller coasters towering over the ticket booth. He was adamant that he did not want to go on them. Things got better once we maneuvered over to Camp Snoopy! (Veteran's day at Knott's Berry Farm meant that I got our whole group in for $45.00 and rather than being filled with lots of potential gang members it was filled with former military – very different vibe!)
Everything is still going fine. We hosted four social workers last night who came with the kids. They are very funny Filipino ladies. It's their first time in the U.S., but they speak English very well. Their main goal is to pick an apple from a tree. We don't quite understand why that is so important to them, but they really want to do it.
Julius is speaking more comfortably now, but still only a handful of words every now and then. He has started doing some very light school work with Sandy and is doing great with that. Good at math and coming up to speed fast on English reading.
We appreciate all your prayers and encouraging messages!
Similar Posts: