Courtesy of Kathy: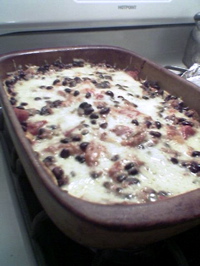 2 cups chopped onion
1 1/2 cups chopped green pepper
1 14 oz can tomatoes, cut up
3/4 cup picante sauce
2 cloves garlic, minced
2 tsp. ground cumin
2 15 oz cans black beans or red kidney beans, drained (I use the black)
12 6″ corn tortillas
2 cups shredded low-fat Monterey Jack cheese (8oz)
2 medium tomatoes, slice (optional)
2 cups shredded lettuce (optional)
Sliced green onion (optional)
sliced pitted ripe olives (optional)
1/2 cup reduced-calorie dairy sour

In a large skillet combine onion, green pepper, undrained tomatoes, picante sauce, garlic, and cumin. Bring to boiling; reduce heat. Simmer uncovered, for 10 minutes, Stir in beans.
In a 13 X 9 x 2 inch baking dish spread one-third of the bean mixture over bottom. Top with half of the tortillas, overlapping as necessary, and half of the cheese, Add another one-third of the bean mixture, then remaining tortillas and bean mixture. Cover and bake in a 350 degree oven for 30 to 35 minutes or till heated through. Sprinkle with remaining cheese. Let stand for 10 minutes.
If desired, top with tomato slices, lettuce, green onion, and olives.
Similar Posts: